Want a Better Way to Clean Your RV?
When you are using your RV, keeping it clean can be a chore. An RV broom is a must have cleaning tool. RV interiors tend to collect dirt, especially going in and out all the time on your traveling adventures. Don't fling the dust from the road into the air to settle on all over the interior! The one-handed motion of the WISP will pull the dirt in the direction you want it to go. Electrostatic bristles and a 90° angle from handle to floor keep debris in place, which means fewer passes and less work. The WISPpan creates a four-point seal to the floor, using only the pressure from the ball of your foot. Because this eliminates that annoying line of dirt left behind by regular brooms and dustpans, you won't have to bend over more than once!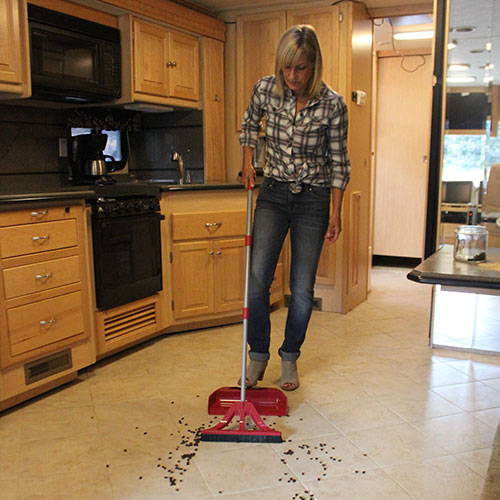 Get The Revolutionary RV Broom Today
 
RV Compact Broom
The miniWISP is great for keeping small spaces clean. The 6" wide head will sweep up the dust and dirt from travel. The convenient size makes it great for storage. Because the WISP is designed for one-handed cleaning, the handle is shorter than other brooms. A regular broom might be ill-fitting in a small RV, but the WISP fits perfectly. If you need to adjust it though, the handle telescopes out to 54". Take the WISPsystem along on your next travel adventure!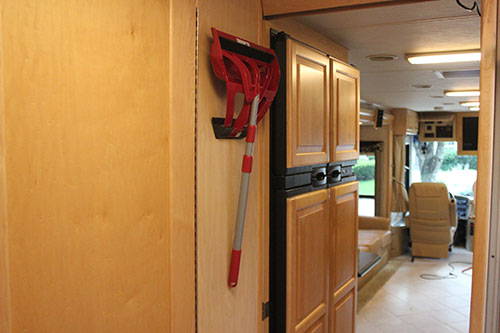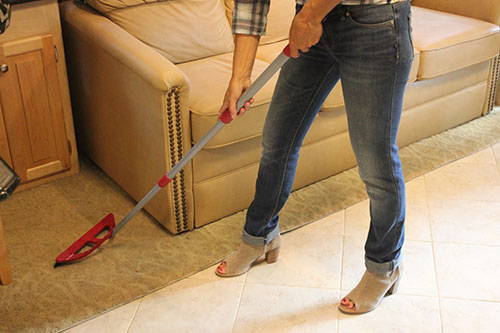 RV Vacuum
A vacuum can take up a lot of valuable space in your RV. When you don't have an available power source, how can you keep your traveling home clean? The WISP and miniWISP will ensure your RV is kept tidy. Don't hassle with a vacuum, clean up with the WISP. Effective and efficient, this cleaning team will come through for you.
Save And Upgrade To Bundle
Indoor/Outdoor Collection
---

A Cleaning Product Every RV Owner Needs
Small Vacuums
Small vacuums lose suction and run out of batteries. Solve both these problems with the WISP. With compact and durable bristles are powerful enough to sweep pet hair out of carpets. A built in comb on the side of the pan keeps the bristles clean for you. No more plugging in to charge or emptying dusty dirt chambers. Just pull out your WISP and get to cleaning.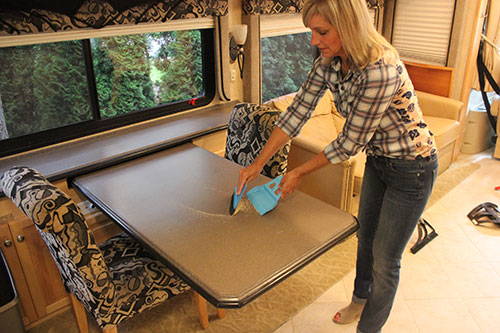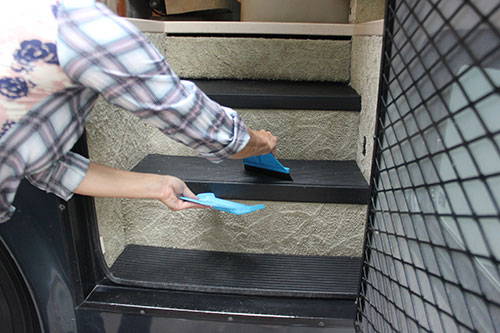 RV Cleaner
You couldn't ask for a better RV cleaner than the WISPsystem. Made of durable materials, the WISP will last longer than traditional brooms and dustpans might. It is perfect for small spaces and stores easily. Available in a variety of colors, it can even match your interior! Take it with you on your next RV road trip.  
Collapsible Broom
The telescoping handle on the WISP with adjusts from 29" to 51" easily. Made of a highly durable and lightweight steel, it is easy to use and stores away just like a collapsible broom. Designed so that you use less force, this WISP is a one-handed wonder that won't take up much space.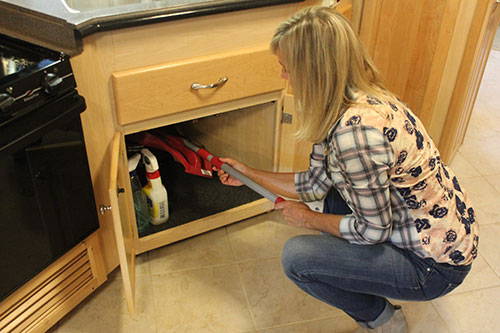 The only smart choice for RV cleaning is the WISPsystem. With its many features for effective cleaning and storage, you will never need another broom for the road. Get into the tight spaces and keep things dirt and dust free while traveling. Take the WISPsystem with you and keep the interior of your RV as clean as you do your home.
Better than brooms. Easier than vacuums.
Choose the WISP that best fits your needs
Our most popular RV broom product. Includes a telescoping handle for up to 51" of reach.
Compact and powerful. Perfect for keeping in the RV and for cleaning dog hair on upholstery.
The biggest of the WISP products, choose from either 18" or 24" bigWISPs for outdoor clean up.