Want the Power of the WISP in a Push Broom?
Outdoor Push Broom
Your big messes just got a heck of a lot more manageable with the bigWISP. Cleaning large spaces can take a lot of time and effort – there's a better way! Using the most efficient, lightweight tools – like the revolutionary WISP broom – make a huge difference. The bigWISP is 3lbs lighter than your regular push-broom, so you don't expend as much energy to use it. Even better, it's perfect for older folks who might have trouble lifting heavy things. Designed to be used as a one-handed broom, you can either pull it towards you or push it away from you. Using electrostatic energy, the Bristle Seal Technology ensures dirt, dust and hair are attracted the dense bristles of the head. Don't spread the mess around, get it up with less passes and less sweat. Available in 18" and 24' widths, choose what size is best for your needs – there's no wrong choice. It's about time somebody invented a better way to broom, and that's exactly what we've done with the innovative new WISP broom.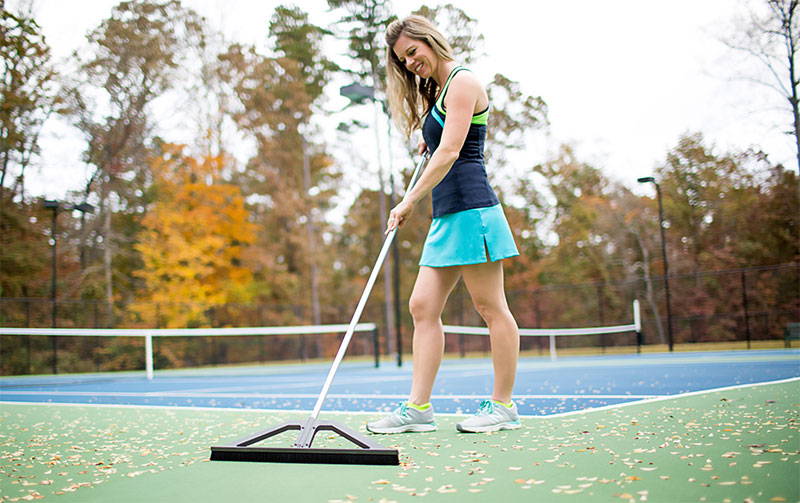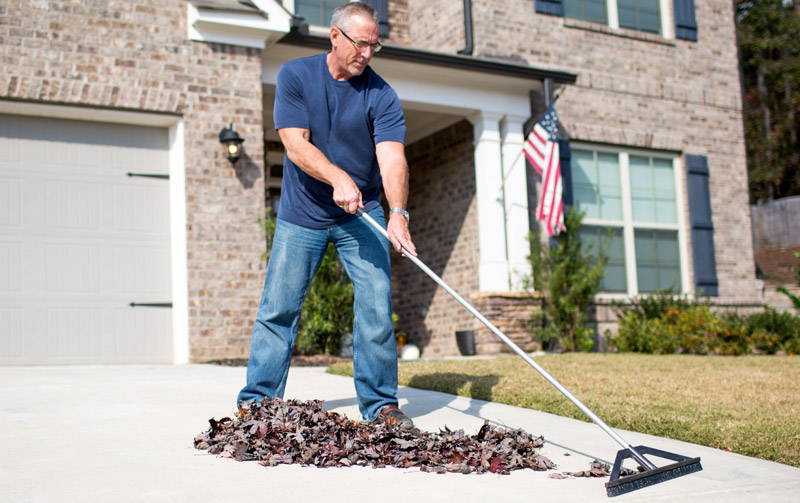 Get The Revolutionary bigWISP Push Broom Today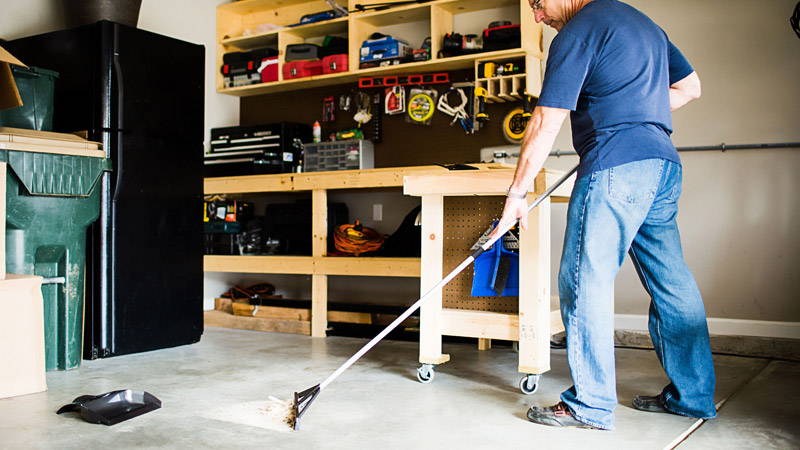 Garage Broom
Introducing the WISP, the best choice for a garage broom. Keeping a garage clean is tough, but the WISP is now here to help make it so much easier. The innovative design and the bristles combine to keep what you're cleaning up from floating back up into the air. Great for the garage, driveway, porch and workshop—the bigWISP can handle your toughest outdoor messes in a flash. Put away the loud and cumbersome leaf blower that can be so hard on your back. Don't worry about lugging around that dusty shop vac – and even worse cleaning it out when the project is done. Stop sweeping up your outdoor messes and start WISPing them up today! It's simply an easier way to keep tough cleaning areas neat and tidy. And if the bigWISP isn't right for you, we have so many other choices, from our mini WISPS and beyond. Give it just one sweep and you will be WISPing for life!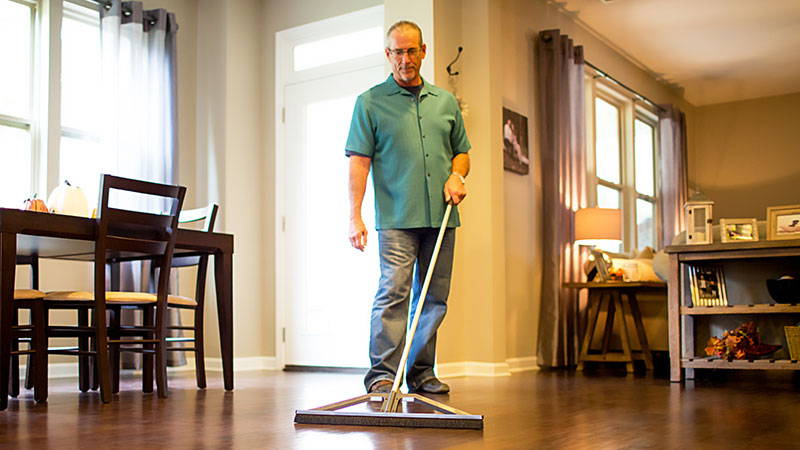 Indoor Push Broom
Effectively sweeps just about any area. Gets dirt & small items cleaned up in your garage, store, or shop. Clear dirt & be ready in a snap to entertain guests at the pool area. Collects leaves & twigs off the tennis court in a jiff. Sweep store aisles fast so they're ready for customers. Clear away hair around the barber shop chair way fast. At the restaurant, quickly & safely clear away shattered glass, dropped food, & bread crumbs. Get all the floor debris swept up super quick after the fair in the school gym.
A Push Broom for Indoors and Outdoors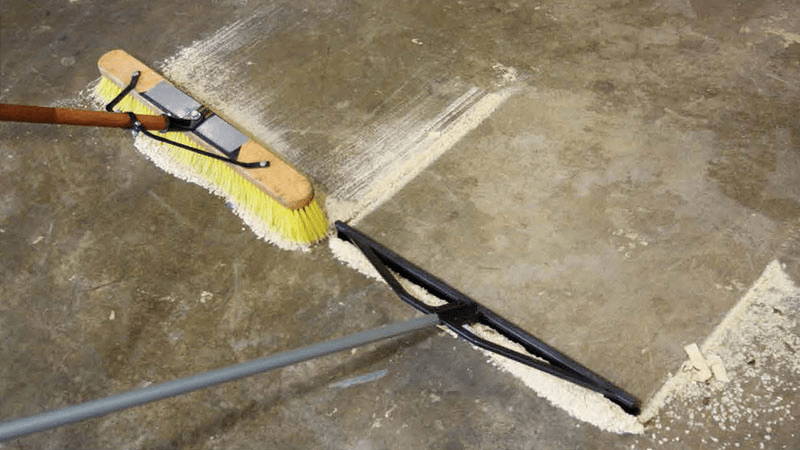 Push Broom Comparison
Big gain & no pain when hitting big areas. One-handed effortless cleaning with no excess pressure, stooping, or bending. Ergonomic so you won't fatigue. Less hassle than shopvacs. Faster than heavy and clunky push brooms. Better for quick jobs than messy mops. Like all WISP products, bigWISP's bristles create a squeegee-like effect against your floor. Two widths provide flexibility to handle big & bigger spaces.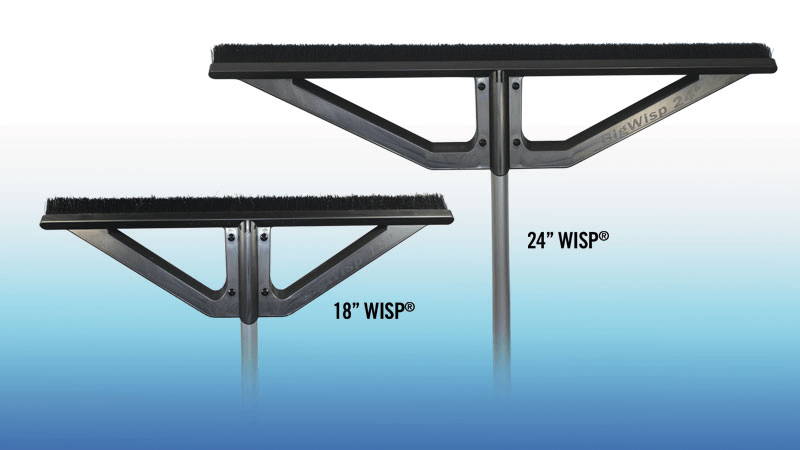 Pool Broom
If you have a pool, you already know that you don't want all those leaves and yard debris blowing into your pool. But keeping it clean is such a pain! The leaf blower can kick up pollen, insects and grass clippings-- sending them flying into the water. Luckily, now there's a revolutionary new tool that can help you ditch that old and ineffective pool broom once and for all. Keep the mess under control with the push-pull motion of the bigWISP. Keeping the pool area tidy can mean less maintenance for your pool over time, less expense, and far fewer hassles. Are you ready to upgrade your pool broom? The WISP is a low cost solutions that helps you work smarter—never harder. Give the WISP a try today!
Big Broom
Need a big broom to help you clean up big messes? The bigWISP is perfect for you. Available in a choice of sizes, 18 inches or 24 inches, the bigWISP is the last big broom you'll ever need to buy. Use it in your garage, in the work shop, almost anywhere a big broom is needed. So easy to use, so lightweight, and so much more effective than a regular big broom, you'll wonder why someone didn't think of this before. Check out the bigWISP today – and don't forget that we offer smaller WISPS for other areas of your home.
Best Push Broom
The WISP is the best push broom you will ever try – and we guarantee it. There are a few features that make our unique broom the best push broom for everyday uses, starting with its revolutionary design. Created to be easy to either push or pull debris into the pan, our WISP brooms are light enough to be used one-handed, with one of a kind bristles that lock debris in and keep it from floating away. You'll never use an old school push broom again after you've given a WISP a whirl. Order yours today!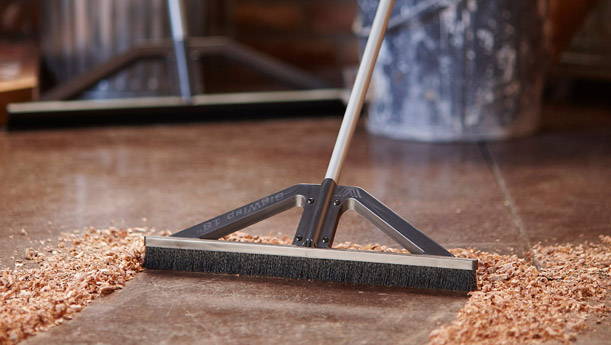 Shop Broom
Ready to finally get rid of that old, yucky shop broom? Tired of all the time and effort you put into keeping your shop clean? Well you're in luck… the WISP broom has arrived. Designed to be the perfect alternative to those old, ineffective shop brooms, the WISP is a revolutionary new design that offers innovative features plain old shop brooms don't. The bigWISP is perfect for shops, garages, outdoors areas and so much more—it will make cleaning a breeze. So much lighter than regular brooms, the WISP shop broom requires less energy to use. You can use it as a one handed broom and either push or pull debris. Our unique electrostatic energy locks in the mess, so it doesn't wind up going all over your work shop floor. Choose from either an 18 inch or 24 inch width – either size works as a great replacement for your existing shop broom. It's about time somebody invented a smarter way to sweep… and that's exactly what we did with the WISP shop broom. Give it a one single try and you will never go back to old shop brooms again. Order your WISP broom today!